Signing of Declaration of Inclusion by 5 Georgian Universities
On June 14, 2014 - the National Awareness Day for People with Special Needs, within the Tempus funded project "ASPIRE" ('Access to Society for People with Individual Requirements) –the Declaration of Inclusion was signed by five Georgian Universities.
These were:
Ilia State University
The Georgian Institute of Public Affairs
Batumi Shota Rustaveli State University
Samtskhe-Javakheti State University
Kutaisi State University
and the Ministry of Education and Science of Georgia.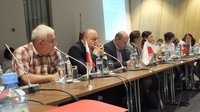 The Declaration is based on three core ideas of Inclusion in Higher Education namely
"Create the Environment, Know the Opportunity and Promote Education"
Parties will strive to transform higher education institutions into inclusive space through the transformation of institutes and universities.
The parties agreed:
To abide by the principle of equality. Accordingly, the parties support the creation of diverse and flexible learning environments considering individual needs of learners.
To focus on creating appropriate conditions for adequate student life.
To retain academic standards and quality, the parties strive here to implement innovative methods and supporting technologies.
To ensure equal opportunities for all, institutional culture is to be geared towards supportive environment for students and academics for academic, scientific and social functionality.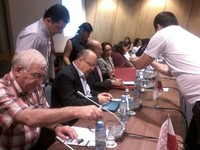 The organizational vision of the parties has laid a foundation for implementing changes and supporting inclusive education in terms of infrastructure, teaching methodologies, learning resources, organizing teaching processes in addition to the overall learning environment.
Partner higher education institutions have agreed to launch joint efforts in support of development and implementation of inclusive education in educational programs.